Skiing in ISCHGL-SAMNAUN
04.03.2017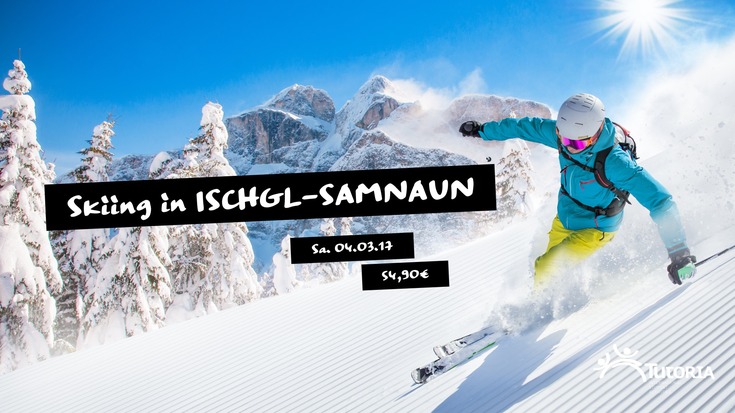 only 54,90€ for the transport, the lift-pass, a goodie-bag in the morning a great après-ski-party with a cool beer on the way home
Many of you asked us to organize a trip to the snowy Alps. We are happy to announce that we can offer you a day-trip at an unbeatable price. We will take you to the border of Austria and Switzerland. Enjoy a perfect winterly day in the first-class skiing area of Samnaun/Ischgl!
The area offers 238km of skiing tracks at a height between 1400 and 2900m. 45 ski lifts allow you to move between tracks and one special highlight is the 11km long track where you can ski from the top to the valley. If you get hungry, try one of the 14 restaurants or huts along the way.
Not into skiing? No problem, you can join us nevertheless. Enjoy the winterly scenery and take a bobsleigh (you can rent one on the spot), try langlauf (cross-country skiing), do some ice-skating or book a sleigh ride with horses…we can even organize a hiking or walking tour if enough of you are interested. On top of that, Samnaun is famous for its duty-free shops, if you are interested in shopping.
Usually, lift passes for one day are at 48 euros. We can offer you the daytrip at only 54.90 € (plus deposit for lift card: 5€, refundable). What´s more, you will also get:
bus trip from Munich to Samnaun and back
1-day lift pass
guarantee against cancellation: we will definitely go there
goodie-bag in the morning
après-ski-party
cool beer on the way home
… and of course the one-of-a-kind atmosphere you know from our previous trips!
Sign up:
EVERYBODY can join us this time. You do not necessarily have to be enrolled at LMU or be a student at all. So if you have friends outside university who like skiing, feel free to spread the word!
There is no need to come to our office in order to sign up this time. We organize the trip with our partners at Schneebeben and you can directly sign up by using this link:
http://www.schneebeben.de/buchen/?ter_id=1062&ort_id=1037&extra_ort_id=1037
Equipment:
If you have your own equipment, please bring it along, if not, there are several possibilities where you can rent it for one day:
Alternative Programme:
If you do not need a lift pass, you will get a 15-Euro refund afterwards. We will post a survey soon in order to find out what kind of alternative we will organize for you as a group if enough people are interested.